Medevac Shot Down in Arizona Territory
7 February 1969; YK-15
Crew of YK-15, BuNo 153334

Bartolina, Ernest E., Jr.
Moke, Russell Eugene
Miller, Charles Willard, Jr.
Shank, Rodney George
Tomaro, Gregory J.
Tyrrell, Walter Ripley
Young, Gary Norman
(Pilot)(Photo)
(Copilot)(Photo)
(Crew Chief) (Photo)
(Gunner)
(Gunner - Survived the crash)
(Navy Corpsman - Was training Gary N. Young) (Additional story)
(Navy Corpsman - Link to page maintained by Gary's daughter)
My name is Stephanie Hanson and I never knew my father. He was killed in Vietnam two months before I was born. I was subsequently given up for adoption. At the age of 27, I found my birth mother who first told me about my father, Gary Norman Young.
Since that time, I have been searching to find out exactly what happened to my father. I discovered that he was a Navy Corpsman who was shot down while flying his first Medevac mission, which happened to be with HMM-364.
Many of the Purple Foxes have gotten together to give me a better idea of the events of February 7, 1969.
Two CH-46D Sea Knight helicopters had been flying medevac missions throughout the day. On their 8th mission, they were called into "Arizona Territory" for a "routine" medevac (Map coordinates AT820561). Swift 1-1 was piloted by Captain Ernie Bartolina and Swift 1-2 piloted by Lt. Dick Hardin with Captain Bartolina being the lead.
The information from the ground unit was that they had not had any fire or enemy contact at their position and were not likely to. However, it turned out that there were many of them there. A crew member from the wing man chopper thought most of them were in a nearby "FRIENDLY" village and just to the right of the village.
The lead chopper started it's approach into the zone and the wing man lost visual contact with it in the clouds. At this point, the chopper was hit by enemy fire shooting out both hydraulic boost systems making it virtually impossible to fly.
Cpl. James H. Bandish, the crew chief of the chase aircraft relates, "I was looking out the crew chief's window when the other chopper broke through the clouds toward the zone. Suddenly the chopper did a nose up flop and rotated a full 360 degrees and went in wheels first into a rice paddy. It actually looked as if this was an aerobatic maneuver and landing. I thought the light or angle may have created an illusion and the chopper did make a safe landing, it really appeared that way."
The Capt. Bartolina's chopper dropped from approximately 1,000 feet in the air and landed in a rice paddy. Lt. Hardin attempted twice to land, but could not because of the intense fire. Additional fire support was called and the ground forces moved into the area to secure the area near the downed chopper. 1stLt. Courtney Payne and his Recovery Team responded to the call and managed to complete the recovery effort.
Epilogue
The squadron's recovery team was inserted into the zone by 1stLt. Thomas J. Sullivan. His actions during this recovery process, under extreme conditions, lead to him being awarded the Silver Star Medal. Read his Citation here.
1stLt. Courtney B. Payne was the Officer in Charge of the Recovery Team. His actions during the recovery process lead to him being awarded the Bronze Star Medal. Read his Citation by clicking here.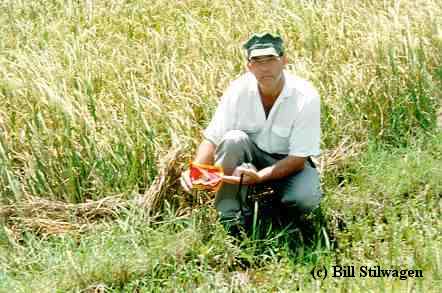 Bill Stilwagen on a recent tour (summer 1999) in Vietnam, gathering soil and erecting a commemorative flag at the site of a medevac helicopter crash on February 7, 1969. He ventured to the coordinates by GPS and collected the soil sample for Stephanie Hanson, the daughter of Corpsman Gary N. Young who perished in the crash. Contributed by Stephanie Hanson
Information provided by:
Stephanie Hanson, daughter of Gary Norman Young
Courtney Payne, Major, USMC (Ret)
Owen C. Baker, Col. USMC (Ret)
James H. Bandish, former Cpl. USMC
Mrs. Thomas J. (Nanci) Sullivan
Jan Bartolina, sister of Ernest E. Bartolina, Jr.
LAST UPDATED: NOVEMBER 9, 2002