The Concept
When the Vietnam era Marines of Marine Medium Helicopter Squadron 364,
otherwise known as the world famous Purple Foxes, learned that plans for the
National Museum of the Marine Corps included a park like setting to display
items recognizing units which had materially fomented the glorious history of
the United States Marine Corps, they decided to honor those Marines and Navy
Corpsmen who made the supreme sacrifice while bearing the title of Purple Fox.
A plaque was decided upon and a search for a bronze sculptor was initiated who
could render the UH-34, CH-46 and the mascot character known as Swifty onto
the plaque. It so happened that a Purple Fox active duty pilot at Marine Corps
Air Station, Camp Pendleton, Ca., had a brother who was a sculptor as well as a
Marine Reservists. Cpl. Cliff F. Dupill, USMCR of Delmont, Pa. was selected as
the sculptor and tasked with completing the plaque in time for the scheduled July
2004 reunion in Reno, Nv. Cliff completed the project and delivered it to Reno
for the first viewing by the Purple Foxes in attendance and a formal dedication.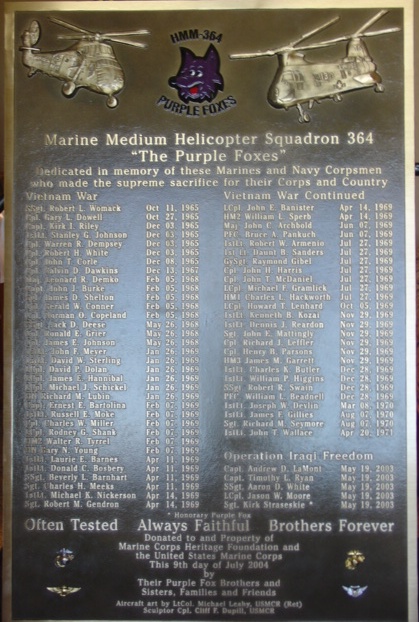 (Photo Provided by Dave Powell )
By the time the plaque was commissioned, five additional Purple Foxes had been
lost during the first segment of Operation Iraqi Freedom. Their names were
included on the plaque. A temporary place for the plaque was required since the
National Museum of the Marine Corps and the Semper Fidelis Memorial Park had
not been completed.