Guy W. Lobdell was born January 19, 1948 to Robert and Rhoda (Giberson) Lobdell in Aberdeen, Washington. He passed away unexpectedly at his home on June 7, 2006.
After growing up on the coast he moved to the area and became a Richland Bomber for the class of 1966.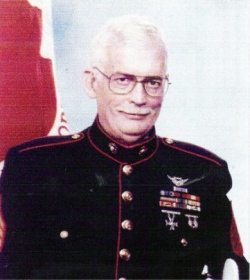 Following in his father's footsteps he joined the United States Marine Corp on July 14, 1966. He proudly and bravely served two tours in Vietnam. The first time with HMM-364 from 1967 – 1968, and then again he served with HMM – 263 from 1968 – 1969. During his military career he earned two Purple Hearts one in 1968 and the other in 1969 both times at Phu-Bai. He also received National Defense Service Medal, Vietnam Service Medal with 2 stars, Combat Aircrew Insignia with 3 stars, Vietnamese Campaign Medal, Presidential Unit Citation, Flight Strike Medal, Good Conduct Medal, and Air Medal with Bronze Star.
He married the love of his life Nola (Alderman) Lobdell while still in the Marines in 1969.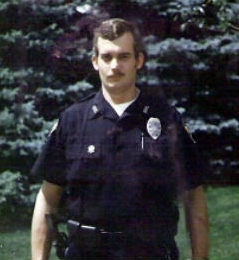 Guy started his career in Law Enforcement with Franklin County, back when the territory was so small he was often the only deputy on duty. From there he went on to the Richland Police Department. There he received officer of the year twice, once from the Jaycees and again from the Kiwanis.
During this time Guy and Nola settled into there home in Richland where they raised a family. Guy was a good father and loving husband. He supported his children as each one grew. Picking them up whenever they fell and pushing them when they needed to be pushed. He could be tough when he had to be and gentle when he needed to be.
In his retirement years Guy was involved in the Marine Corp League becoming a lifetime member, the D.V.A. and most recently his beloved Greyhound rescue. He and Nola rescued and adopted 3 themselves. He would enjoy standing on the back patio and watch them running laps, and not caring that they were wearing ruts in his lawn (that he was very particular about) their freedom from what they endured meant more to him.
He is survived by his loving wife of 37 years Nola (Alderman) Lobdell, daughter Kara Squier, her fiancée and fellow U.S. Marine James Kent Jr., son Curtis and Danielle Lobdell, son Scott and Rashael Lobdell, grandchildren Savannah, Tori, Brenton, and Jadelyn, two sisters Marie Crockett and Wilma Mc Glothlin, and two brothers George Lobdell and Alan Lobdell; also numerous special nieces and nephews.
Guy was tough as nails, and he went through a lot, many things that would have killed a "normal" person long ago. He kept on going and going no matter what. No matter the pain, until finally it got to be too much and he needed to rest his weary body. He was preceded in death by his parents Robert and Rhoda Lobdell.
There will be a celebration of Guy's Life at the Knights of Columbus at 2500 Chester Road in Richland, WA on Saturday, June 17, 2006 at 3:00 p.m.
In lieu of flowers please make a donation to: Greyhound Pets, Inc. c/o Bunny Richardson, Treasure P.O. Box 891 Woodinville, WA 98072. www.greyhoundpetsinc.org in Guys Name.
"Love is our way, all mine to you"
Semper Fi !