The historical record of those who defended Hill 881S during the siege of Khe Sanh is still remembered and regarded as significant in the training of today's Marines to fill those billets today. Major Hendericks, a FAC instructor at MCAS Yuma, was aware of Arrotta's fame atop Hill 881S and found that he lived in the San Diego area. He contacted Arrotta requesting that he relate to his students some of the lessons learned from his experience during the siege of Khe Sanh. Arrotta suggested that another radio operator (RO), Glenn Earl Prentice, be included to relate some "real world" situations they encountered.
Prentice, as a Sergeant, was a forward observer/radio operator attached from the 13th Marines. Arrotta, as a radio operator attached from H&S/3/26, actually served as Captain Dabney's Forward Air Controller (FAC). The officer FAC originally attached to Hill 881S was wounded and medically evacuated shortly after the hill was occupied on 27 December 1967. Captain Dabney requested a replacement FAC and used Cpl. Arrotta as an interim FAC. Several weeks passed before Captain Dabney was notified that a replacement FAC had been found and would soon arrive on the hill. Captain Dabney told them they need not send the officer as he had a well qualified Forward Air Controller, Cpl. Robert J. Arrotta.
Their first training session that Arrotta and Prentice were participants of occurred in September 2006. It was considered highly beneficial by the school and they were asked if they would return for another classroom presentation in March, 2007. They were pleased and decided to enhance their presentation. They developed a Power Point presentation from photos displayed in their web site depicting the history of Hill 881S and how CAS became their main source of survival during the 77 day Siege of Khe Sanh. They emphasized the importance of being extremely creative and flexible by describing what it was like after the siege of Khe Sanh commenced on January 20, 1968. The students learned that seven helicopters were lost to enemy fire while conducting logistical and medical evacuation missions prior to the aviation community devising a tactical employment of air assets supporting the hill that became known as the "Super Gaggle" on February 24, 1968.
The Power Point presentation included a recording made aboard a helicopter in Vietnam that is representative of the conversations carried on by the crews supporting Hill 881S.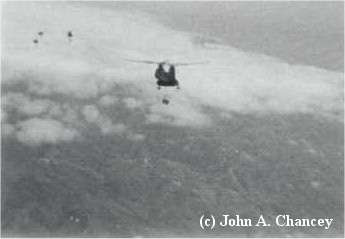 The caption on this photo is, "Tail-End-Charlie joins flight from the Dong Ha LSA. Upon arriving at Khe Sanh's hill outposts they will descend through the clouds to be greeted with mortar and automatic weapons fire while providing critically needed supplies."
Click here for that recording.
Arrotta and Prentice were invited to see the class perform practical applications of what they had learned in the Chocolate Mountain Aerial Gunnery Ranges near the Salton Sea in California in April 2007.