-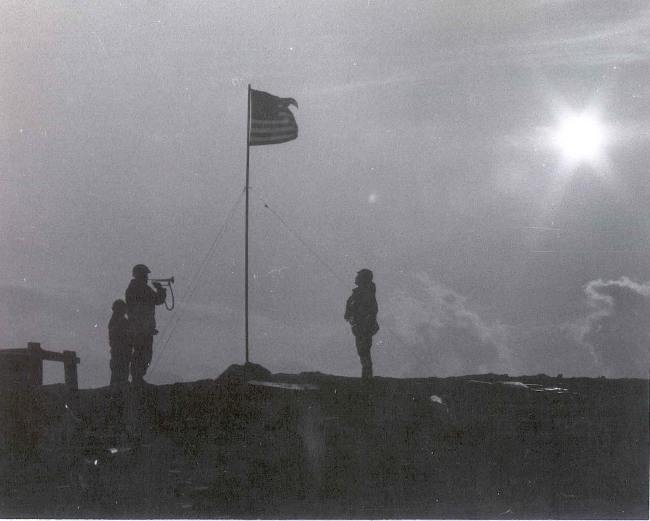 BUGLER, SOUND THE "COLORS" NOW...
GIVE GREETING TO THE MORNING SUN
AND HOIST THE FLAG WITH STRIPES UNFURLED
TO DECORATE EIGHT EIGHTY-ONE.
SHE'LL WAVE IN GENTLE MAJESTY,
AND LET ESCAPE A MOURNFUL SIGH,
FOR THOSE WHOSE BLOOD HAS STAINED THIS HILL
AND THOSE WHO'VE YET TO DIE.
PERSONIFIED, SHE WALKS WITH GOD
AND LONGS FOR PEACE WHEN ALL IS DONE,
BUT 'TIL THEN, LIVES WILL STILL BE LOST
LIKE THOSE ON HILL EIGHT EIGHTY-ONE.
AS NIGHTFALL COMES HER VIGIL ENDS,
SHE'S FOLDED WITH A LOVING HAND,
AND SENT WITH CARE ACROSS THE SEA
TO THE FAMILY OF A FIGHTING MAN.
TOMORROW BRINGS ANOTHER FLAG
TO STAND, LIKE SHE, AGAINST THE SUN.
THE QUEEN OF THOSE WHO FOUGHT FOR US
AND DIED ON HILL EIGHT EIGHTY-ONE
PAM ZORN-ANDERSON