Eileen Donovan's Wings of Gold
By John R. Harris and George N. Gitcho
On 27 July 2007, thirty-two Marine and Navy Officers received their "Wings of Gold" at the Naval Aviation Training Center, Pensacola, Florida. Among the newly designated Aviators was Marine First Lieutenant Eileen Donovan. Her wings were pinned on by her proud parents Pat and Beba Donovan. The wings that she received were once worn by Colonel Eugene Brady, USMC (Ret).
Lt. Colonel Brady commanded the famed Purple Foxes of HMM-364, flying the CH-46's in Vietnam during some of that conflict's heaviest combat operations in 1968-69. Gene was awarded the Navy Cross for conspicuous gallantry flying CH-46's in support of Marine ground operations. As a tribute to Gene's leadership, he is still revered by the men he led and is fondly referred to as "Papa Fox." Colonel Brady was recently inducted into the elite Pioneer Naval Aviators Association "The Golden Eagles."

One of Col. Brady's stellar young Purple Foxes Aviators was First Lieutenant Pat Donovan, Eileen's father. For his heroic flight endeavors piloting the CH-46, Lieutenant Donovan received two Navy Crosses among his many combat awards and left Vietnam as one of the Marines' most highly deco- rated pilots. Pat is now a prominent Federal Judge in Chicago.

Lieutenant Eileen Donovan will begin her operational career on the West Coast being assigned to HMMT-164 for advanced training in the CH-46 helicopter. With HMM-364 being stationed at MCAS Camp Pendleton, there is always the possibility that she could be assigned to the Purple Foxes, who continue to distinguish themselves while flying the venerable and reliable CH-46. Could the Purple Foxes "handle" another Donovan?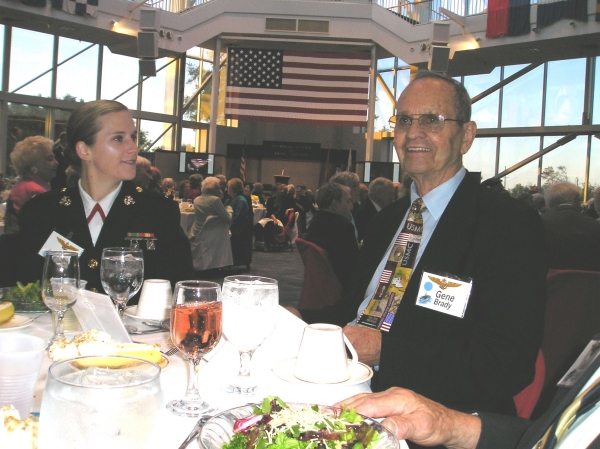 Lt. Donovan with Col. Brady during his Golden Eagle Induction Ceremony on 8 May, 2007
"Swifty" was also in attendance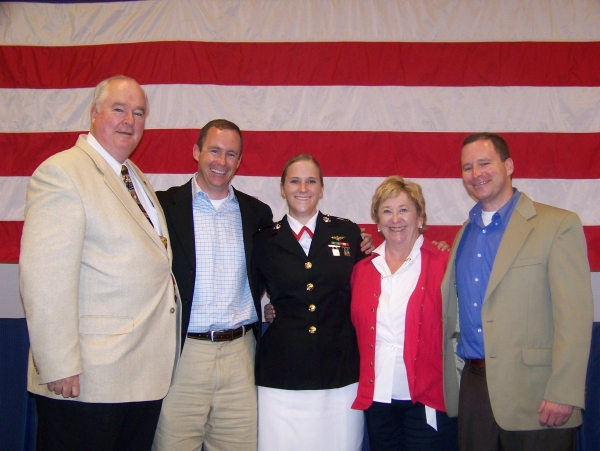 The Donovan clan at the HT-8 Winging Ceremony on 27 July 2007.
From left: Pat, Sr., Daniel, Eileen, Beba and Pat, Jr. Two other
brothers who very much wanted to be present were Brian and Tom.